Whether you are a large or small group, or a single visitor, a private tour, expertly tailored to your requirements, is the best possible way to experience Vicenza's wonder.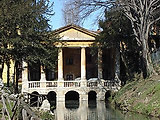 There is simply no more fascinating way to discover the majestic sites of Vicenza town and province than with a local tour guide. Guides are experts at ensuring you make the most of your available time and take home a truly memorable experience; they will suggest itineraries that take into consideration your tour party's requirements and can also take into account any specific areas of interest or can vary the route according to your preferred pace. The flexibility of a private tour affords a perfect environment for guides to pass on the breadth of their inside knowledge, giving you a unique insight into your surroundings.
Tour-Vicenza.Com private tours are charged at no more than the official fees published in the provincial tables, starting at only €105 (standard half day) for up to thirty participants. If you are interested in chartering a tour guide, please get in touch via the form below, providing travel dates and any specific requirements, we will be happy to assist you.
Click here for more images of Vicenza